SURFSCAN - ストリップ欠陥の自動検出
SURFSCAN CVT820は主に冷間圧延機の金属・非鉄金属ストリップ製造において、CCDカメラと制御ユニットを用いてストリップ表面の欠陥を監視します。これにより生産品質の向上と、製品不良を無くし損失を最小限に抑えます。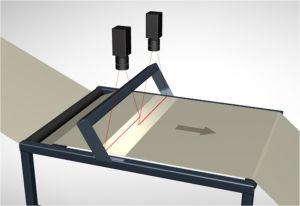 SURFSCAN is a visual inspection system designed for defect detection on non-woven textiles, plastic foils, paper, metal plates, etc. System can detect defects as small as 0,1 mm2 at speeds up to 2000 m/min. Maximum product width is 5 m. System is fully configurable according to customer's requirements and can be used in various phases of production process.
Features:
100% inspection 24/7
Detection of periodic defects
Automatic detection of edges and width of material
Possible integration of alarms and marking systems
Slitting quality control
Real-time visualization of defects on several distributed stations
Export of statistics, print of output protocol
Easy integration due to modular design
Suitable for in-line systems and rewinders
Online support 24/7
Purpose:
Production efficiency improvement
Number of reclamations from customers decrease
Long-term overview of production quality due to simple export of statistics
System overview:
System can detect many different kinds of defects, eg. holes, spots, foreign objects, changes of pattern, homogeneity of material, etc. These defects are then automatically classified using neural network algorithms into categories according to training samples in database.
To achieve best detection results system uses adjustable high-power LED illumination, high-speed linescan cameras and sophisticated lens control. It's applicable to wide range of thickness, colors and patterns of produced material.
Every part is designed as modular as possible, so it can be adapted to individual customer's requirements and limitations of given production line. System can be installed in different stages of production, ie. from primary material to final product for end customer.
Other features:
Customization of SW according to customer needs
Control of detection sensitivity
Setting of minimum defect's size
Self-learning classifier
Automatic compensation of illumination intensity
Classification of defects to categories
Communication with systems on production line
Possible integration of other sensors
Automatic system diagnostic
Users' rights management
Low operating costs
Camera unit
System SURFSCAN uses state-of-the-art linescan cameras with high resolution sensors (up to 16 kpxl), outstanding signal/noise ratio and line frequency up to 200 kHz. Lens is mounted to camera using specially developed adapter, which allows remote control of lens aperture and focus.
Illumination unit
To achieve best results of detection system uses adjustable high-power LED illumination. To highlight particular type of defects there are also variants with different wavelengths of light, eventually with special angle illumination.
Rack unit
Core of the system is a rack unit containing computational units for data processing. It also provides a power supply for all subsystems.Using standard industrial interfaces (Ethernet, RS232/485, etc.) it can communicate with other systems. In case of operation under more demanding conditions, it can be equipped with air-conditioning or ventilation unit.
I/O module
Expansion I/O module PULSIO allows connection of output signals to other systems (signalling, marking, etc.) and also custom input signals (start/stop, material break, etc.). Programmable logic inside can also act as a state machine of production line and share this information with central server which controls whole inspection accordingly.
Operator console
According to needs it's possible to use several remote administrator consoles and multiple offline stations for reviewing of archived reports.
Specification:

| Parameter | Value |
| --- | --- |
| Power supply | 230 V AC |
| Operating temperature | 50 - 60°C |
| Production speed (max.) | 200 m/min |
| Material width (max.) | 5 m |
| Defect size (min.) | 0.1 mm2 |
| Image resolution (typ.) | 0.1 mm/pxl |
Attached video